Most People Are Terrible At Taking Their Own Photos.
(trust me, I've seen a lot of tryhard selfies in my day)
You don't have the money to hire a professional photographer whenever you need a new headshot or product photo, but there's a solution.
This self-photoshoot course will teach you how to take flattering pictures of yourself, what kind of lighting works best, and how to style yourself for maximum effect.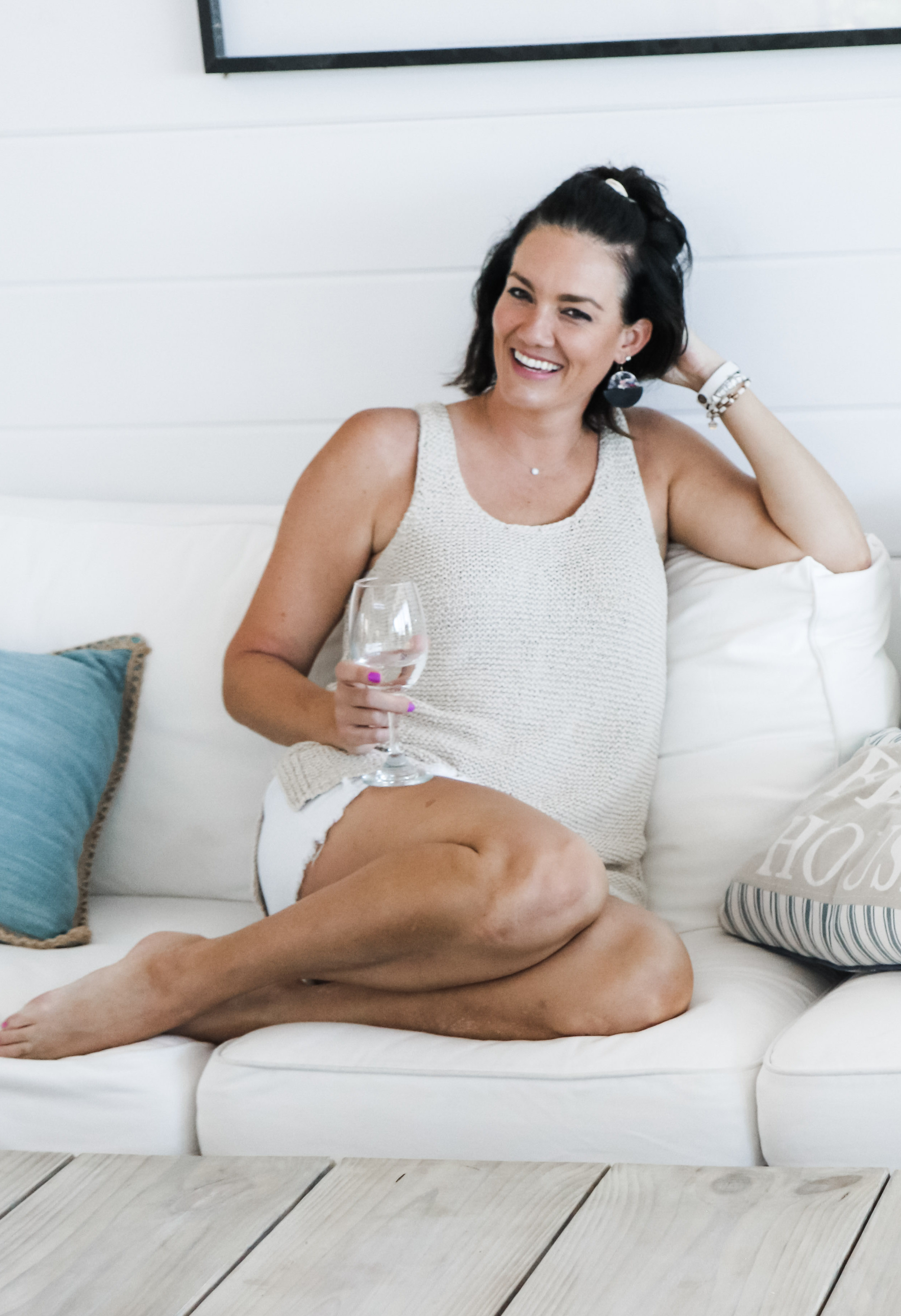 After Lifestyle Headshots Tutorial...


YOU STOPPED RELYING ON STOCK IMAGES AND REALIZED

Being The Face Of Your Brand Creates More Engagement.

You knew that besides a well-thought-out content strategy, a face-to-face marketing interaction with your prospective client was another way to overcome their doubt and fear of making the wrong decision. 

By putting your face at the front of your brand, not only have you been grabbing the attention of more readers on social media, but they are consuming your content.
Although you were uncomfortable with putting yourself online at first, you've seen its impact on your connections and conversions.

Using the secret Lifestyle Headshots For Amateurs Kit, you have an endless amount of poses for all your marketing needs. You are finally differentiating yourself from everyone else on the web!

I CAN HELP BECAUSE I'VE BEEN THERE.

My Brand, Too, Resembled Every Other Online Marketer.

Here's what I did about it... I stopped doing what everyone else was doing to promote their business online.
I was obsessively frustrated with the copy-and-paste marketing tactics reinforced throughout the industry.
As a creative, I knew there had to be other ways to connect with my audience than company photos and repetitive sales captions.

I knew my audience had to feel the same way if I was sick and tired of seeing the same images and promotions in my timeline.
So instead of loading my feed with stock images and company photos, I started standing out by showcasing ME!
Yes, it takes a bit to get used to - although I'm not sure you ever get used to seeing your face across your marketing assets - it skyrocketed my visibility, authority, and engagement.
Using brand-focused copywriting and creative techniques, I connected with my audience in a way I had never done before.
And now I want to teach you these simple tricks to take photos of yourself with just a phone and a few key online tools!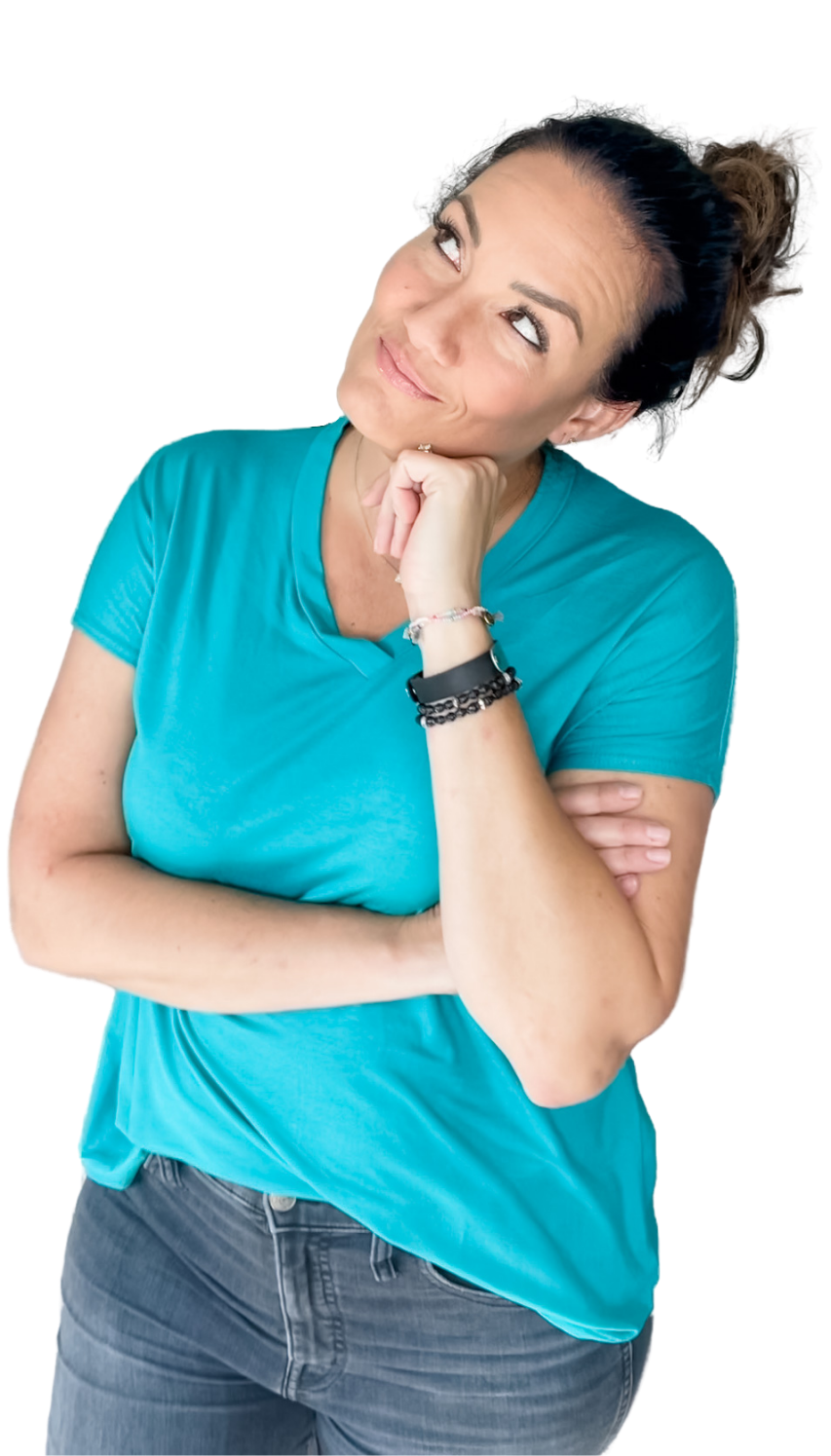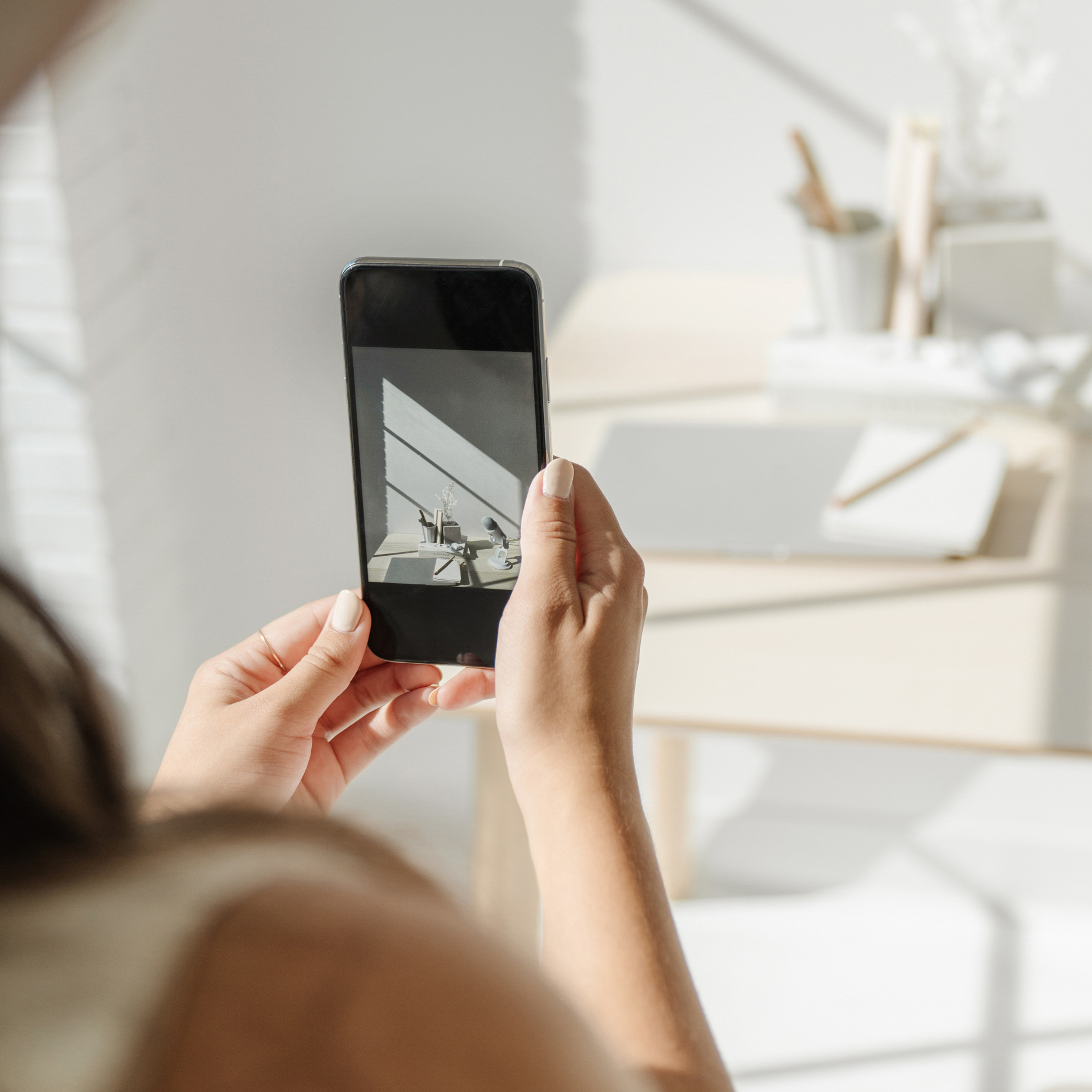 PHOTO POSES

Pose ideas to take control of your marketing images and get noticed across all digital channels.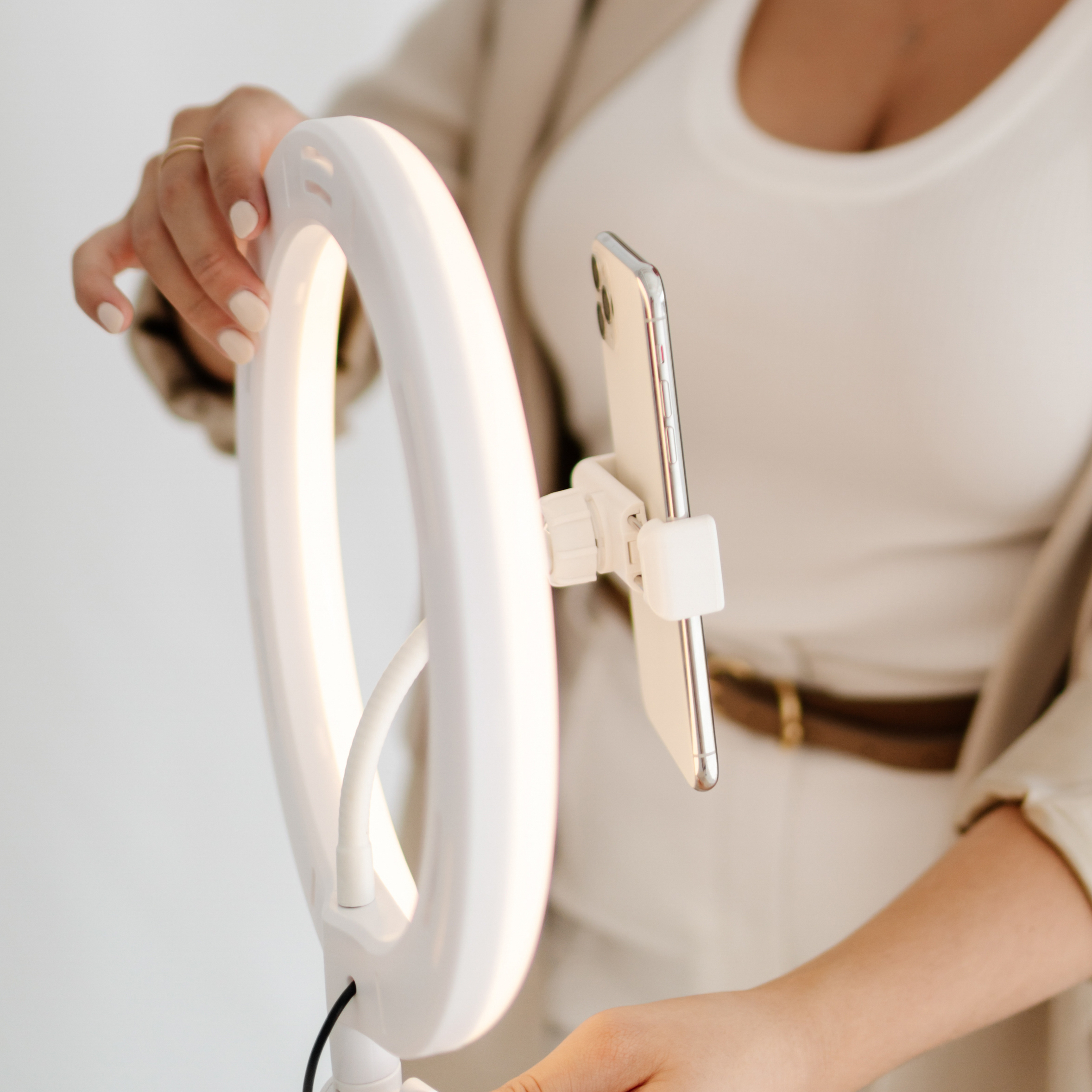 TAKING PHOTOS

A simple technique to take candid lifestyle photos of yourself without using an unreliable self-timer or friend to snap a camera.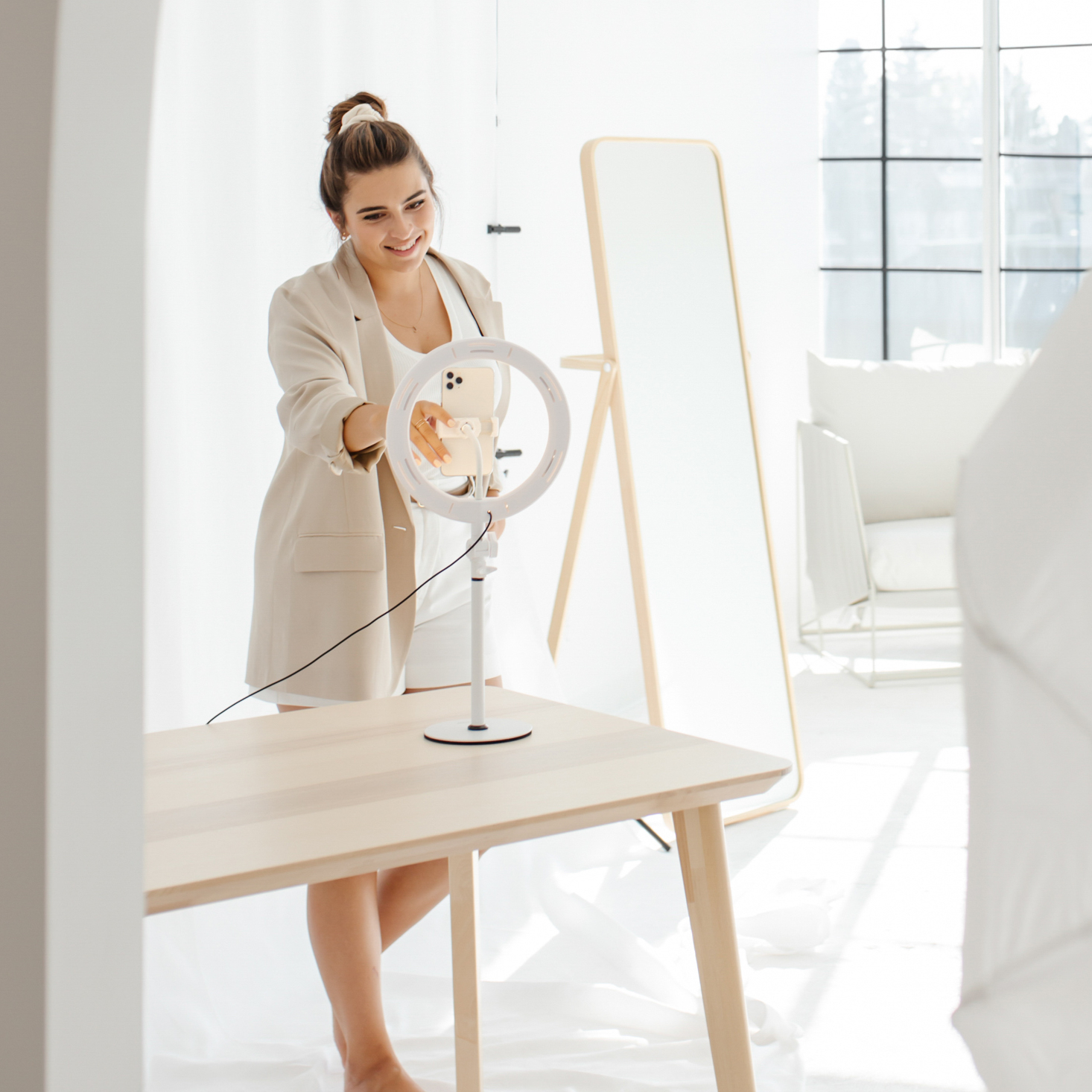 EDITING PHOTOS

How to quickly edit and save your photos, so they are easy to use in all your marketing.

FOR BEGINNER MARKETERS WHO WANT PROFESSIONAL-LOOKING MARKETING PHOTOS WITHOUT HIRING A PHOTOGRAPHER. PERFECT FOR COURSE CREATORS, COACHES, PINTEREST MARKETING, NETWORK MARKETERS, AND MORE!
Enhance your brand photos by using the best props and backgrounds.

Achieve a quick photoshoot experience using the secret phone apps online marketers use today.

Save time by knowing the exact lighting and phone holders to make taking photos quick and painless so you can stop stacking books and pray your phone doesn't fall.

Boost your visibility and engagement by learning how to pose naturally for marketing photos and headshots.

Simplify how you edit your photos in Canva to create endless marketing graphics for all digital channels.

Increase engagement on your photos when you understand the power behind your face in your marketing.

Build a portfolio of professional-looking marketing graphics, photographs, and brand assets you have 100% ownership over.

Here's What's Included...
Available in days

days after you enroll

Tutorial Kit
Words From Students...
"Kristin, you have done it again! This photo tutorial has been a game-changer for my business... 5 STARS! My husband will not follow me around and take picture of me, he doesn't get it. AND, I hated to snap photos, selfies and camera timers... those pictures always turned out awkward. NOT ANYMORE! I love this style of taking photos. It has helped my Pinterest Pin clicks skyrocket! Thank You, Thank You!"
Jennifer

"I love your headshot photo guide. It is amazing."

Jamie
"This is incredible, Kristin! Thank you for taking the time to show this tutorial!"

Catina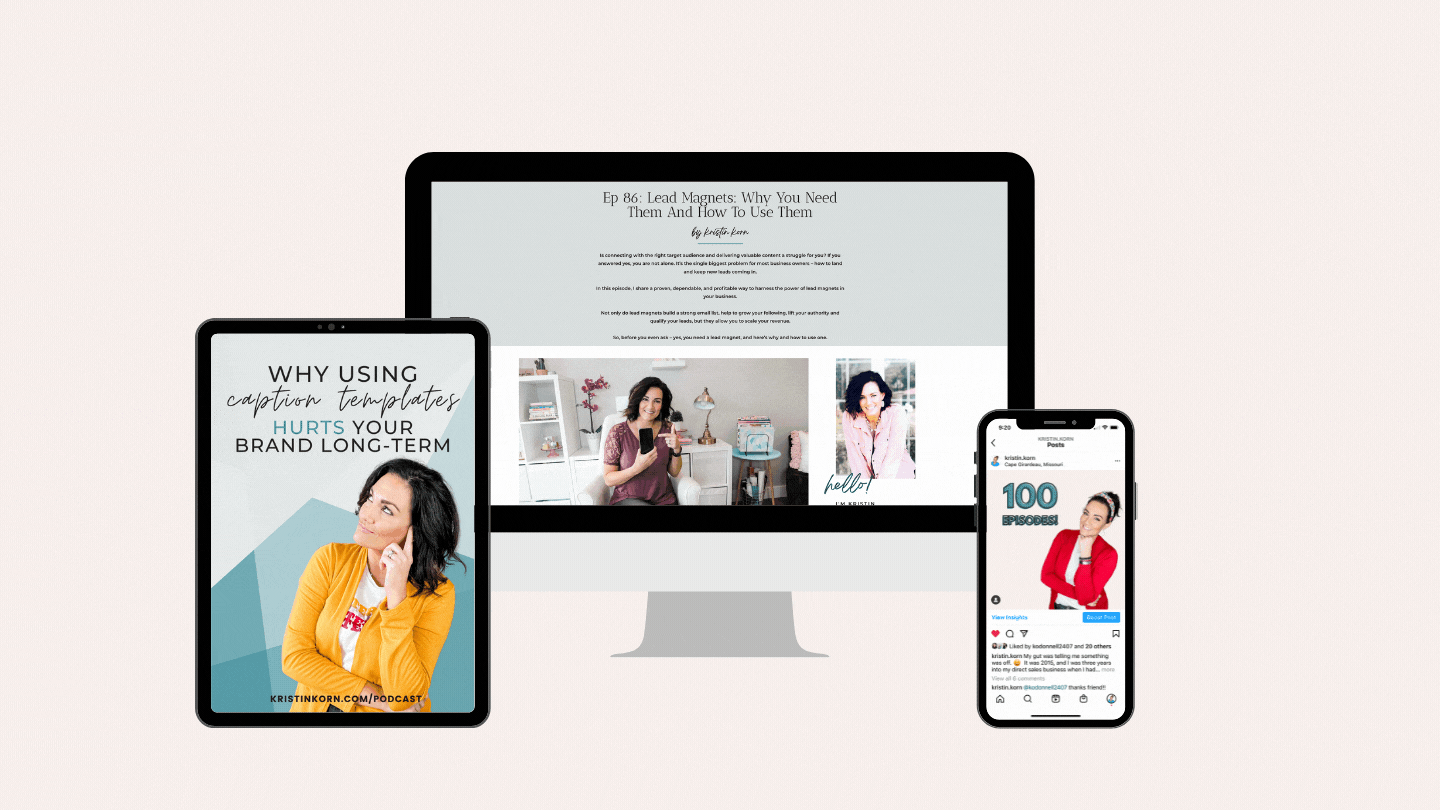 This Secret To Snapshots Works For All Your Marketing Platforms!

Showing your face is the most effective way to encourage your potential clients to get to know you and your brand on a deeper level.
Over the last year, over 50% of my top 15 Instagram posts for likes, comments, interactions, and impressions have had my face in them!

How Does This Sound?
Create brand recognition so you can gain trust with your audience about who you are and what you offer, which means you can differentiate yourself from the rest of the market.
Increase your engagement which leads more readers to your content, and that means building relationships with more prospective clients.
Build loyalty and connection, which helps you become approachable and authentic, converting more readers into paying clients.
Have endless marketing photos of yourself, so you can swiftly design brand graphics, thus, making your brand strategy easier.
Control all right to your photos and how they are used and edited - without restrictions for years and years to come.